Phonetic transcription of the sweet loving name that parents affectionately give to their children in Hindi.
Bachaā is an idea which started to germinate in our heads several years ago and which became obvious to us when our third child was born. 
It is the fruit of an experience that we have shared for over fifteen years with the biggest ready-to-wear brands including The Kooples, Sandro, IKKS, Barbara Bui, Gérard Darel…  
In 2019, Bachaā was created in the image of our life, our convictions and our values.  
Bachaā is the phonetic transcription of the sweet loving name that parents affectionately give to their children in Hindi (pronounced BaTchaA).
It expresses our love for India, with whom we have had an authentic relationship for several years. A connection.
A strong ecological and environmental commitment
We believe that when you wear a garment, you also bear responsibility for its manufacturing process. 
Bachaā works every day to improve the ecological and environmental footprint of his creations.  
We favor textiles from organic farming, respectful of the environment or natural fibers in order to reduce our impact on flora and fauna and to control our energy consumption as much as possible.
Our packaging is made with recycled or fully recyclable materials and our delivery method (DHL GO GREEN) is eco-friendly.
We are careful to limit our carbon footprint. We produce our creations where cotton grows.
Dyes are made on site and trims are found as much as possible in the local Indian market.
We are well aware that such commitments are a great adventure and require very large investments, a lot of time and a reduction in our margins. However, this is the goal we have set for ourselves.
We did not need to create the Bachaā brand to assert our ecological and environmental commitments. These choices have long been the ones that dictate our daily lives.
Responsible and ethical production and manufacturing methods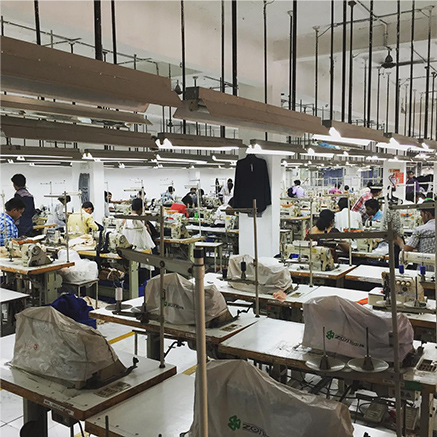 Our manufacturing workshops located in India hold GOTS (Global Organic Textile Standard), OEKO-TEX® STANDARD 100, SEDEX SMETA and SA8000:2014 certifications. These certifications guarantee that our products are made in ethical and responsible conditions and in respect of workers' rights.
The GOTS (Global Organic Textile Standard) certification ensures, according to extremely high criteria, that at each stage of production the processes used are socially responsible and respectful of the environment.
The OEKO-TEX® STANDARD 100 Label certifies that each component of the garment is free from harmful substances and is safe for human health.
The SEDEX SMETA certification is an audit intended to validate the responsible business
practices of a company with regard in particular to work, health and safety, the environment and business ethics.
The SA8000:2014 standard guarantees, through a credible and reliable verification system, respect for the fundamental rights of workers in the company, namely:
The absence of child labor; 
The absence of discrimination and forced labor; 
Compliance with international rules relating to the health and safety of workers, working time and compulsory rest time;
Freedom of association and collective bargaining. 
Quality products at reasonable and reasoned prices
Our creations are made with care and passion.
We worked hard for you.
Most of our embroidery is handmade.
We have created unique garments designed using rare artisanal processes and high quality know-how, acquired after years of experience, while making sure to offer them to you at reasonable and reasoned prices.
Reasonable because the absence of intermediaries greatly reduces our production costs.
Reasoned because we will always refuse to reduce our prices at the risk of reneging on our commitments and our values.
More than a story, Bachaā is an adventure that we hope to share with you.